Net Neutrality
In relation to the Net, the big political issue of the moment is that of its continued neutrality. The big telcos in the US have spent a lot of money trying to persuade the American political parties that continued net neutrality means more regulation, and, of course, regulation, according to them, is, by definition, 'a bad thing'. They have succeeded in their entirely self-serving campaign to the extent that the Senate committee considering the issue split 11-11 on the vote on Wednesday 26th July – without a clear majority the so-called "net neutrality measure" falls and the Telcos get their way, for the moment.

While not clear cut, the issue is hardening into a Democrat-Republican split, with the Democrats largely behind net neutrality and the regulation required to keep it that way, and the Republicans anti-regulation.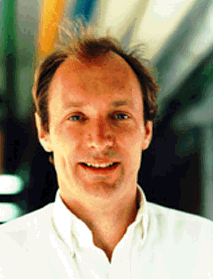 Tim Berners-Lee, as you might expect, has fought against any attempt to damage the open nature of the Net , and has used his own blog in the fight. A particularly interesting take on the protagonists ranged on either side of this debate is offered by Lawrence Lessig in his influential blog. He points out that, in his view, those arguing for net neutrality are those who 'get' the Net, and those opposed are those who have never 'gotten' it.

As he says: "The pro-NN contingent is filled with the people who actually built the Net — from Vint Cerf to Google to eBay — and those who profit from the competition enabled by the Net — e.g., Microsoft. The anti-NN contingent is filled with the entities that either never got the Net, or fought like hell to control it — telecom, and cable companies."

The comments offered in response to Lessig's point are worth delving into!

[with acknowledgment to www.ibiblio.org. for the photograph of TBL - another great source of information on the Net]
&copy John Connell
The views expressed in this weblog are entirely my own and are not intended to reflect the views of any other individuals or organizations. All sources will be fully acknowledged.